2017-06-25 16:06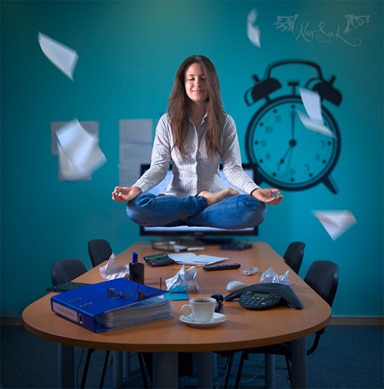 (photo: Antony Hell)
Sometimes you have to call it quits and admit your phone just isn't working right, and no number of help group suggestions is going to fix it. But, maybe, a factory reset will. Maybe you should just start over.
And yet, you don't really want to start over. You want your email, and your pictures. You want your apps, even if you have to reinstall them. You definitely do not want to wipe your phone only to discover you deleted something super-critical.
This guide can't guarantee you won't lose something important. There are too many different apps, settings, and places to hide. But it should give you a better chance, maybe make you think of something you hadn't before.
These instructions are for a Windows user. Sorry, Mac people. Also, my phone is a Nexus 5 running Android 7 (Nougat). Your settings and dialogs may have different labels.
Basically
Get your account passwords ready
Clean up your installed app lists
Backup all your data
Factory Reset
Setup
Test
Preparation
Set aside plenty of time for this. Make it easy on yourself by having:
Your phone's power adapter and cable.
A USB cable to attach to your computer.
WiFi access, otherwise the data usage will eat you up.
Fully charged your phone.
WiFi and Cell Service
You shouldn't have to do anything to restore your cell service after the factory reset, That information is tied to your SIM card, or otherwise stored in a non-volatile way. But, I can't guarantee you won't need to enter some kind of information required by your carrier.
If you have WiFi, you'll need your WiFi password, and you'll need to know your wireless network name.
Apps
Cleanup
By default, Google remembers every application you ever installed from the Play store, even if you uninstall it. After factory resetting, and entering your Google account, there's an option to restore all your installed apps. You may want to do that, or you may want to reinstall from scratch. I like doing the latter, because
I only install what I really need, and
I don't know if a previously installed app is causing my problems.
So, I want my application history to only show what's actually on my phone. Thankfully, the latest versions of the Play store make this easier that before. To clean up your apps:
Switch to the Library tab. This is all the applications you've installed in the past, but are not currently installed.

Tap the X to delete applications that you don't plan on installing again. Be ruthless here. If you can delete them all, do it, because after the factory reset this tab should suddenly contain the applications you currently have installed. The goal is not to get confused when you manually reinstall apps.
Important

You cannot do this cleanup from the Google Play web site. You can only do it from your phone. So do it before you reset your phone.
Review
Now open the Installed tab.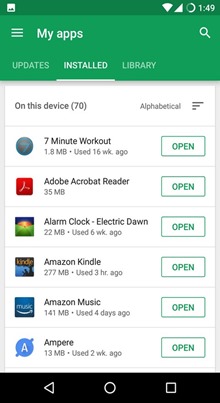 This is a good time to review your applications and ask a few questions:
Do I know this app's user/password?
Does this app store data that I want to keep on my phone?
Does the app have settings that I don't want to forget about, that were a pain to get working?
Other Apps
Did you install any apps from sources other than the Play Store? One likely culprit: Amazon, specifically their Amazon Underground and Music apps.
Passwords
Do you have applications that require a password, but you never have to enter one? Make sure you create a document with those passwords and usernames. Double check what's in your document by logging off from the app and reentering the app's username and password from the document. If you have a password manager, make sure you know and test the master password. Here are some apps might be auto-logging you in.
Your Google account. You probably never enter your Google password on your phone.
Other accounts. Look in Settings > Accounts
Microsoft Office apps (Word, Excel, etc)
Facebook, Twitter, Snapchat...all social media
Amazon Kindle and shopping
Netflix, Hulu, etc.
Your banking app
The good news is, you can almost always recover your password by going to the application's web site.
Phone Backup
There are backup programs you can use to backup your entire phone, and then restore it later. Unfortunately, I can't recommend anything because never use those. Sorry. But here's a recent web article about backup apps.
10 best Android backup apps and other ways to backup Android!
The advantage to a full backup app is, if something goes wrong, you should be able to put your phone back the way it was. But don't rely on that. Take other steps, below, to protect your data.
App Data
Your phone's apps aren't your life. Your primary goal is to be able to recreate your data.
Your data is your life.
First, here's a quick tutorial on connecting your phone to your computer and seeing its files. Most of you know how to do this, but it's worth documenting here.
Plug your phone into your computer using a USB cable.
Your phone should be recognized. You might be prompted how to use the files. Choose "Transfer files" Don't choose to just transfer photos (PTP or MTP). We want access to as many files as possible.
You may need to enable data transfer from your phone. Swipe down and open "USB charging - Tap for more options", then choose Transfer Files
       
On your PC, open the File Explorer, expand This PC, and find your phone's name.

Select that folder, open Internal shared storage, and all you'll have access to your phone's files (most of them).

You can recreate your data in these ways:
Keeping it stored in the cloud. That's the way it works for Google, Facebook and Twitter. In general, if you can access your account and data from both the web and your phone, the data's in the cloud. These are easy.
Exporting it in a file from the phone to your computer, and Importing that file later. Also called Backup and Restore.
Copying it from the phone's application or document folders to your computer, then copying it back later.
Recreating it by hand. You're trying to avoid this.
Cloud
Many applications store your data in places that are hard to get to. Often they store the data in the cloud, which is great because all you have to do is log in and it'll be there.
Backup/Restore or Export/Import
Others store the data on your phone. For example, I have a nice time tracking application, Timesheet - Time Tracker, that stores backups on the phone. It has a paid cloud sync feature, but I don't use it. Checking the settings, I see that I can also backup and restore files from my Google Drive, so I do that, verify the backup file is there, and test restoring the backup.
Backups are nice. But it's the restore that counts. Test your backups and exports.
If you're prompted where to export to, I recommend two places: your Google Drive in a folder named Phone, and/or your phone's Documents folder. In either case, remember to name the file so you'll know what it's for later, or put it in a well-named folder.
If you export to your phone, you'll see later how to copy those files to your computer.
Copying
A thankfully-very-few applications store their data but don't provide a way to export it. That's a hard problem. If you're not very phone/tech savvy, you're probably stuck recreating it by hand. If you do know your way around your phone's file system innards, then try a couple of things:
Try to find the data in the Android folder, either in the data or media folder. Unfortunately, the data files are sometimes. Windows Search sometimes works, if you look for known file names.
Advanced users can install and use an Android file explorer to try to access hidden files, then copy those files to a standard phone folder such as Documents.
Personal Data
A lot of your application data is personal data, but there's a big chunk of stuff that might be on your phone and nowhere else. That chunk is likely to be:
Pictures
Downloads, such as PDFs or videos
Anything you copied or moved to your phone from your computer
Copying this data is pretty easy.
Connect your phone to your computer and open its files (see above).
Create a folder on your Desktop or Documents called Phone and open it.
Copy everything from your phone to that folder.
DO THIS!
This may take a while. In my case, it was only about two minutes. But if it takes longer, that's OK. You'll have captured everything that you possibly can. Do this after you've exported app data as shown above.
Looking at the folders, you might wonder where your camera pictures are. They're in the DCIM folder.
Breathe and Continue
At this point, you should have captured any data that will be lost from your phone. Now, stop. Walk away for five minutes. Come back. And review. Really, do this, because you'll probably think of something you missed. That five minute break may save you hours later.
Factory Reset
This is pretty easy.
On your phone, open Settings > Backup & reset > Factory data reset
You'll get a nice warning about losing data, and which accounts you're signed in to. Do you have usernames and passwords to these?
   
When you're ready, choose Reset Phone.
Android will wipe your phone and reinstall the current factory version of the operating system.
Factory reset does not mean "like it was when I bought the phone." You'll get the latest version of the Android operating system and updates that you had installed.
Setup
After the reset, you'll go through the initial setup. This will include:
Reconnecting to your cell carrier, which should happen automatically.
Connecting to your WiFi, if you're using it.
Entering your Google account information. Be careful here. You'll be prompted to reinstall all your apps. Think carefully whether you want to do this or install them manually.
After your account is set up, you'll go through the tedious process of reinstalling your applications from the Play Store. But I think you'll find that you can prioritize to just the apps you need to survive and be productive (especially if you use your phone for work).
The biggest hassle is, frankly, all the little settings you didn't know you had, getting your phone working just the way you like it.
Don't Rush
Are you doing a factory reset because of phone trouble? If so, don't rush to reinstall your apps. After the initial setup, before reinstalling anything, check if the problem has gone away? If so, great!
Now install the apps one at a time, and check for that problem after each installation. This might take hours, or days, but you might find an offending application and save yourself lots of headaches later.
You might just save your mind.