2014-01-25 15:16
I really like my U530…except that the wireless is flaky. Sometimes it will drop down to 11mbps, as if it suddenly forgot it can connect at Wireless-G speeds. Disconnecting/reconnecting fails with a "Cannot connect, forget this connection?" message. The solution has been to turn WiFi off and back on. Hardly the right thing.
I found a suggestion on a newsgroup to turn the wireless adaptor's Roaming Aggression to "Lowest." I tried this, but it didn't make a significant difference. (Yes, I'm running the latest driver.)
Today, I found a setting that might do the job.
Connect to the wireless network giving problems. (In my case, my home router.)
Right-click the connection icon and choose "Open Network and Sharing Center."

Open "Change adapter settings.
Right-click the Wi-Fi adapter and choose Status.
Open Wireless Properties. These are the properties for the network profile.
Uncheck "Look for other wireless networks while connected to this network."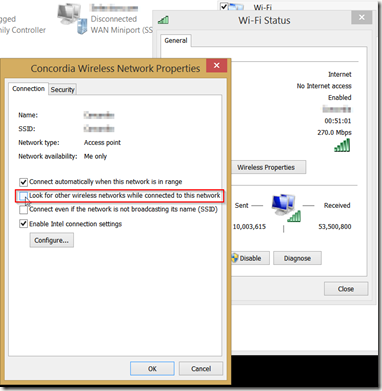 I'm hoping this will stop Windows from trying to find other networks, which seems similar to the "roaming" setting (which I've set back to its default of "Highest."
I'll update this post in a week or less with whether this solved my problem.
Update 1/26/14 9:30p
And, that didn't fix anything. So, I guess I'm still waiting on an updated driver from Lenovo, or I'll find out if I can replace the wireless. But I've read that laptop hardware these days is often recorded in the BIOS, and not allowed to be changed. We'll see.